I have pretty much the most exciting news in the history of Urban Gets Diesel.
At the invitation of the United States Army, CrossFit is sending a small group of trainers to Afghanistan, to run the men and women from the 7th Special Forces Group through a series of CrossFit Gymnastics Certifications.
We'll be flying out of Pope Air Force Base (in NC) on a C-17, with an estimated departure date of December 3rd. Three days later, we'll arrive at Bagram Air Base, and Vance Camp. We'll spend about a week in-country, running as many men and women of the 7SFG through the certs as humanly possible. And we've unofficially given this trip a bad-ass nickname: Operation Iron Cross.
A camera crew from Again Faster will be coming along to document the entire operation for the CrossFit Journal, and Dallas (my business partner and CrossFit Whole9 co-owner) is taking time off from his physical therapy practice to act as an assistant coach at the certs. Finally, proceeds for the majority of equipment and supplies necessary for a project of this nature have been donated by CrossFit's Operation Phoenix, an initiative that raises the necessary funds to equip the United States Marine Corps with functional fitness equipment to increase combat preparedness, reduce injury, and strengthen unit cohesion.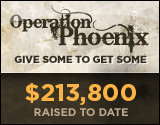 My preparatory role for the operation is especially rewarding – and especially challenging, given our timetable. I am in charge of organizing supplies, equipment and donations for the soldiers stationed at Vance Camp. To run these certs, we need a certain amount of specialized equipment – rings, parallettes, assistance bands, etc. In addition, we'd like to bring the soldiers as many "tastes of home" as we can – things that any CrossFitter would appreciate, but that CrossFitters stationed far from home in service of their country would truly cherish. I'll be trying to organize donations of everything from affiliate t-shirts to Paleo food supplies – and we'll have to move fast, as all donations must be secured and en route to CF Fort Bragg by Thanksgiving.
We've currently lined up several sponsors who are generously donating their time and equipment, including Again Faster, Tactical Athlete, RingTraining.com, Rage Fitness, and Misha's Coffee. Dallas and I are especially excited about the "Whole30 Sponsor a Soldier" program we'll be rolling out, in conjunction with Steve's Club – more information on that tomorrow. But we still need help – and I'm confident that those who read my blog and are active in the CrossFit community will answer the call.
In the coming weeks, I'll be keeping you updated on all of our Operation Iron Cross efforts, and giving you the behind-the-scenes of what it's like to organize a trip of this nature. We'll also be featuring sponsor profiles, letting you know who has contributed to this effort, and how their donations are making a difference.
To say this is an amazing opportunity is an understatement. This will be a life-changing event for those of us privileged enough to participate in this special operation. Stay tuned for more information, and get rolling on ways you (and your affiliate) can contribute to this very worthy CrossFit cause. And if you're stationed at Vance Camp, check out the gymnastic cert dates as posted along the right side of the CF Main Site. Looking forward to seeing you there.
Subscribe to the Whole9 Newsletter
Fill out the form below to stay updated about Whole9 articles, discounts and events.